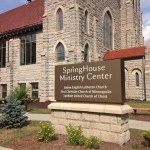 SpringHouse Ministry Center is a new way to be church in the 21st century.  It is a way in which congregations can become more environmentally & financial stable, allowing them to be free to do God's mission in new ways.  SpringHouse is also a space where the wider community can meet, renew, grow and work for wholeness. We are a partnership of three local congregations: First Christian Church (Disciples of Christ),  Salem English Lutheran Church and Lyndale United Church of Christ. Each congregation worships in its own way and together we share common ministries such as education and mission.  View our brochure
Where did the name "SpringHouse Ministry Center" come from?
First, we're a ministry center, a hub or center for ministry for all three congregations and the community beyond.  Within the ministry center there are three churches, three congregations.
Back in the day, a spring house was a small house or shed built over the place where a spring emerged from the ground. The spring's natural cooling offered a cool place to store perishables and a safe place from which to draw water before the water flowed out over the land. A theme in the building and design process has been water—healing water, baptismal water. SpringHouse Ministry Center is a place from which healing waters flow forth into the neighborhood and beyond.